THE ARTIST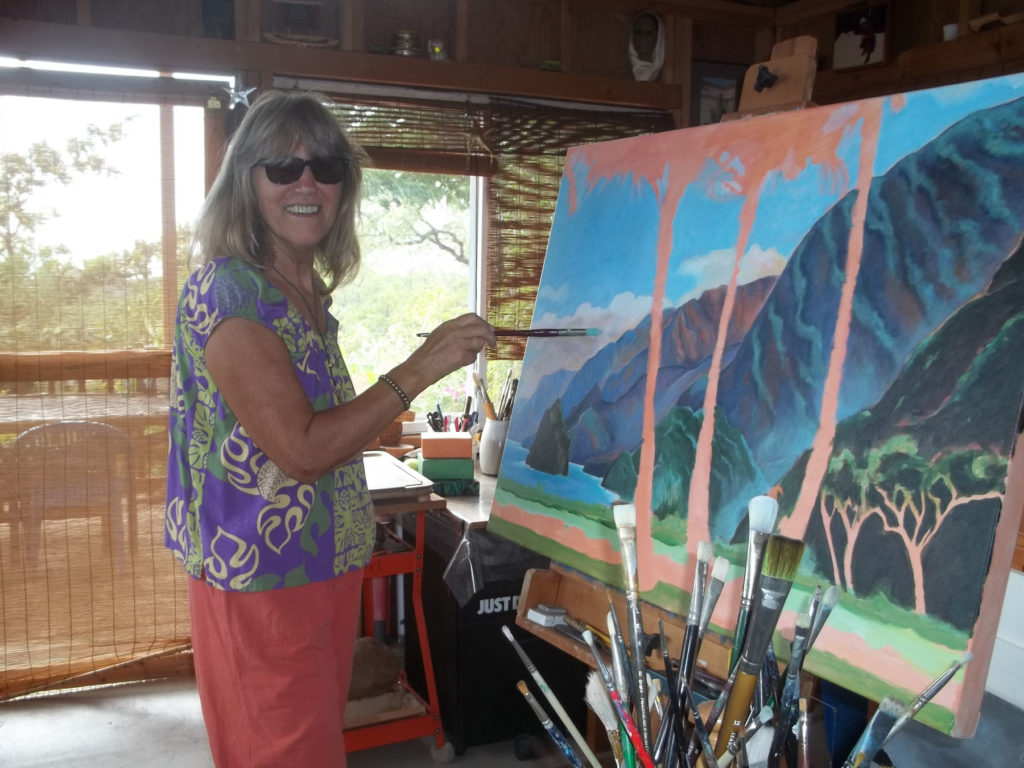 Anna Fuernsteiner has lived on the island of Molokai since 2003 when she relocated from Oregon. Living and painting on Molokai, Anna appreciates all schools of arts, and prefers to work in a fairly realistic style.

Born in Vienna, an arts center, and through independent training, Anna shares her unique view of Hawaiian joy.

"I cannot say I'm "self-taught" as the many art books of the great painters were my teachers. Gauguin guided me, Georgia inspired me, the L.CC Art Department, Oregon, Maude Kerns Art Department and workshops I chose to attend define me into the artist I have become."

To live as an artist is to see the world as one composition after another. Anna trusts her paintings allow you to celebrate the spirit of Hawaii's past and honor the Hawaii of today.
ANNA'S ISLAND ART
Anna's bold color palate is luminous and full of vitality. The majority of her paintings have been completed on the island of Molokai, both on location and in her studio. Hawaiian culture comes alive on her canvases, expressing the people, customs, marine and tropical beauty.

Her experience and talent in fine art, as well as her familiarity with the ocean and her love of nature, give her paintings a unique perspective that reflects the beauty and power of our ever-changing world.

Anna's paintings interpret, with respect and creativity, the "mana" (spirit) of Hawaii in each creation and express feelings that are unique to her. She truly portrays and captures the spirit and sights of these spectacular Hawaiian Islands and her insight is shared and preserved with her paintings.

"It is not what you look at….it is what you see"
VIEW, APPRECIATE AND PURCHASE YOUR MEMORY OF PARADISE
Anna is happy to be able to share her love for art, the beauty of the islands, its heritage and today's visions with others.

You will find Anna's works on Molokai at Molokai Art From The Heart, Blue Monkey and Hotel Molokai; as well as on Oahu at the Hilton Hawaiian in Waikiki. Her work was also presented at a sole artist show at La Sells Gallery, Oregon State University.

You are also invited to order your favorite Hawaiian painting from her on line .